GOVERNANCE CREED
YOUR GOVERNANCE PARTNER
Governance Creed is a dedicated governance firm that specialize in strengthening boardroom and corporate governance across the Middle East.
The firm works with shareholders, boards and senior executives of family businesses, state owned enterprises, publicly listed entities, private equity firms and private companies to improve board performance and organisational governance to drive shareholder value.
Our exceptional team offer the unique set of skills, expertise
and qualifications to ensure successful support: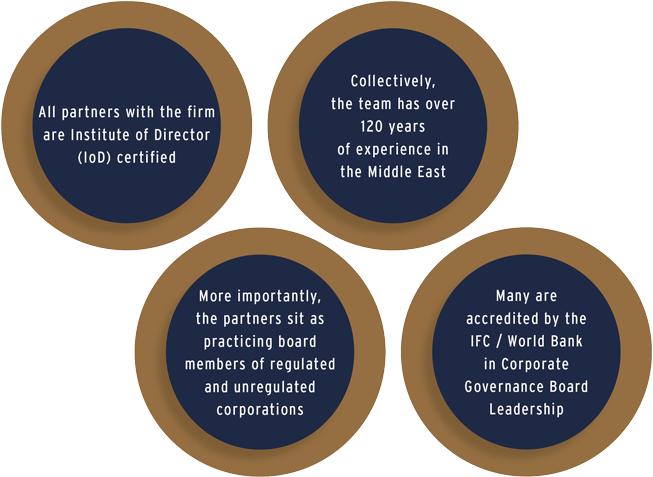 GOVERNANCE AND
BOARDROOM CHALLENGES
The role of the boards across the Middle East is becoming much more complex. Being a board director is now about active leadership, personal accountability and senior executive coaching. Board directors are dynamic and dedicated team members that must now make a strong positive difference to their companies.
Simultaneously, boards are facing increasing pressures in their quest to lead companies to sustainable and successful futures. From regional macro-economic and geo-political issues to mounting international competition and increasingly complex regulatory standards, chairmen, their boards and the boards' committees are tasked to perform at ever increasing levels.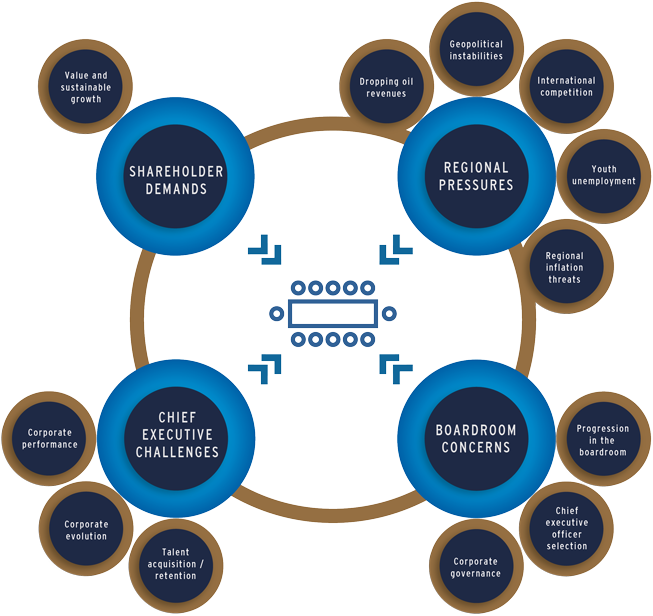 GOVERNANCE
BEST PRACTICE BENEFITS
According to the International Finance Corporation (IFC) and World Bank, well Governed companies perform better and drive higher shareholder value. Adopting corporate governance best practices is proven to deliver the following benefits: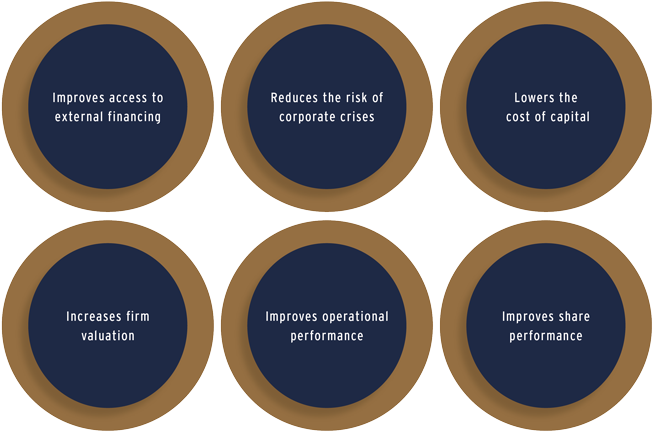 Governance Creed focuses on providing advisory services and partnering companies in the implementation of agreed solutions. Our in-depth tailor-made programs are formed in direct consultation with all critical stakeholders and cover all aspects of Boardroom performance and Organization Governance.
The team's practical experience serving on boards and our regional focus ensure we have first-hand experience in the reality of board room dynamics, the performance board members must aspire to and pressures they face.
Governance Creed was founded by Jan Bladen in response to the demand from the region's companies for support in increasing boardroom performance and improving operational governance practices.
Jan was the founding Chief Operating Officer of the Dubai Financial Services Authority (DFSA) for just under 10 years and a key figure in the establishment of the Dubai International Financial Centre (DIFC).
He subsequently headed-up Abu Dhabi's international financial centre, Abu Dhabi Global Market (ADGM). He qualified as the 1st accredited board director of the Institute of Directors,IoD, in Dubai and was the Chairman of the Institute of Directors, IoD Accreditation Committee for numerous years.
Jan now sits as an active member on numerous regulated and non-regulated boards, both in the Middle East and Europe. Married to an Arab, he has been in the Middle East for over 25 years.
Each client is different and there is no 'one size fits all' solution. Governance Creed partners with its clients' boards and companies to create and implement bespoke governance solutions.
Interaction is always with our most senior team, practicing board members who truly appreciate the realities, issues and practicalities of board level activity.
Governance Creed.
Emirates Financial Towers
North Tower Level 13
Dubai International Financial Centre (DIFC)
Dubai,United Arab Emirates.
+971 (0) 4 439 6777